It's been more than a year since the COVID-19 pandemic brought the world to a standstill. Some regions have improved tremendously since then, and travel restrictions are starting to ease up. Others are still fighting the spread, with closed borders as their armour. Nonetheless, whatever the situation, travel has not resumed to pre-pandemic levels. And there's one feeling that the lockdown has certainly stirred up within us: the burning desire to travel.
Fortunately, technology continues to solve many of the world's problems – and these revolutionary technologies are sure to improve the way we travel during and after the pandemic.
Digital Health Passports
As global vaccination efforts grow, it's becoming apparent that untested and/or unvaccinated individuals may not be allowed to travel (at least, not for a while). Travellers must posses Digital Health Passports that certify their vaccination status and ability to travel. Similar to the physical Yellow Fever Card (International Certificate of Vaccination) that has been around for ages, Digital Health Passports are the digitised version.
On-going developments such as The CommonPass project (a global partnership between the Commons Project, the World Economic Forum and a coalition of public and private partners) aims to standardise the process in which travellers take COVID-19 tests at certified labs and upload the results to their mobile phone, followed by any additional health screening questionnaires required by the destination country.
This has been implemented on Cathay Pacific's Hong Kong-Singapore flights and United Airlines' London-New York route. JetBlue, Lufthansa, SWISS and Virgin Atlantic will soon be on board as well.
Similarly, IATA's Travel Pass Initiative is in its final development stages, having been trialled on Singapore Airline's Jakarta-Singapore and Kuala Lumpur-Singapore routes, with British Airways following suit in the coming months.
COVID-19 Testing and Social Distancing Technology
A number of large airports, including Los Angeles International, San Francisco, London Heathrow, Amsterdam Airport Schiphol, and Dublin Airport have set up COVID-19 testing centres. Major airlines such as American Airlines, United Airlines, British Airways, JetBlue and Lufthansa have also opted for on-site testing. Thus, in addition to the Digital Health Passport, you may have to be tested at the airport as required by the airline, airport or destination country.
Airports have also introduced social distancing technology such as sensors and camera-based crowd monitoring. To minimize crowding, virtual queuing and security checkpoint reservations are expected to be implemented. So, no more standing in line for 45 minutes after having just gotten off a flight.
Off-Site Processing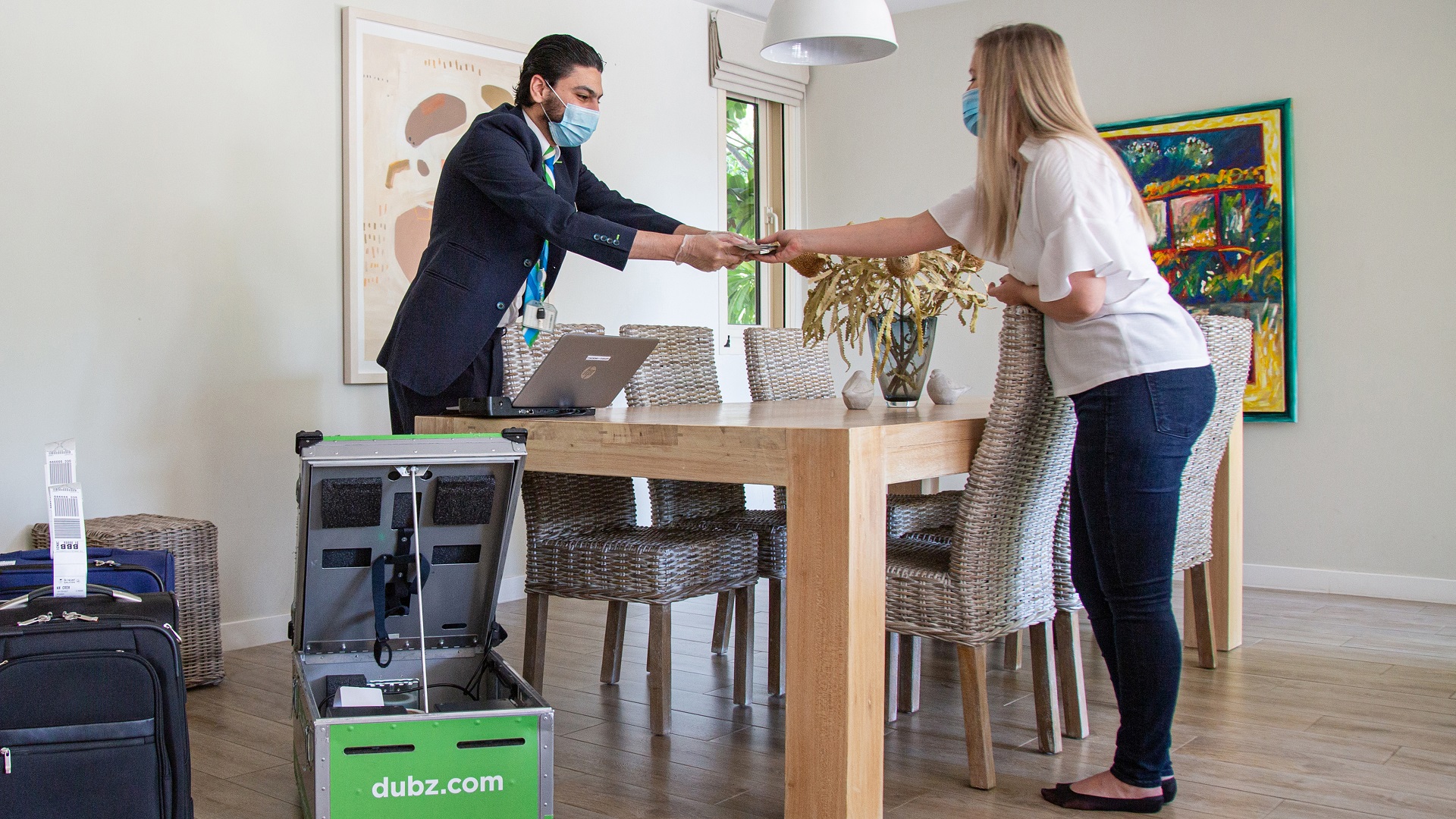 "So much was accomplished in that 30-minute Zoom meeting, which would've taken at least 2 hours at the office."
Sounds familiar?
If you've worked from home over the past year, you probably would've discovered new ways of working. Similarly, the process of air travel for passengers needs to be re-examined and re-imagined – what can be completed more efficiently, if done away from the airport?
In 2020, a home baggage check-in and disinfection service was launched for passengers travelling from Dubai Airport. This allows passengers to safely and efficiently complete their check-in process anywhere (be it their home, hotel, or office) in Dubai, up to 24 hours before their flight. This trailblazing initiative was introduced by one of the world's largest air services providers, dnata, together with baggage technology and logistics company, DUBZ – and we expect to see more airports adopting this in the coming future.
Food and Beverage Pre-Order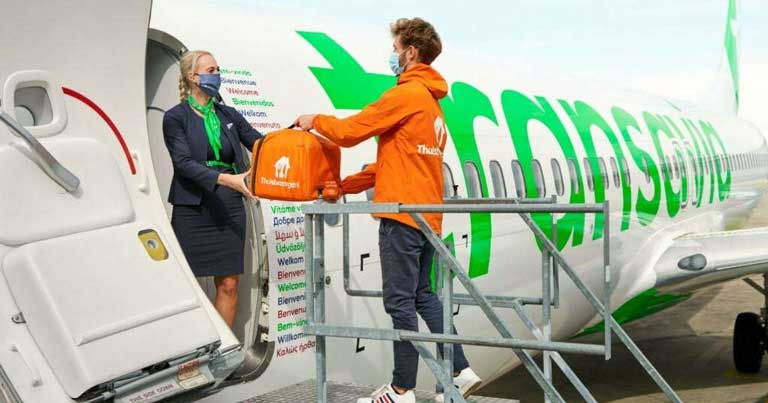 If you've flown on a low-cost carrier, you're probably familiar with the concept of pre-ordering and pre-paying for your in-flight meal. To minimize unnecessary contact, more airlines are now adopting this concept.
Recently, Dutch airline, Transavia, introduced a game-changing partnership with Just Eat (a food delivery service) to offer meal deliveries to the aircraft. Passengers can order through the Just Eat platform up to one hour before their flight.
Advanced Biometrics
Even before the era of COVID-19, biometrics have increasingly gained recognition as a must-have technology in international travel. And with the pandemic, frictionless travel is of growing importance. Here's where we start to see solutions that are more in-depth than the typical thumb-print systems you've encountered at airports.
Some of the latest developments in this field include: the Star Alliance's new interoperable biometric identity and identification platform for screening passengers in Munich and Frankfurt; Etihad's facial biometric check-ins for cabin crew; and VINCI Airports' MONA, the world's first end-to-end biometric assistant for passengers, from home to plane.
Advanced Self-Service and Contactless Technology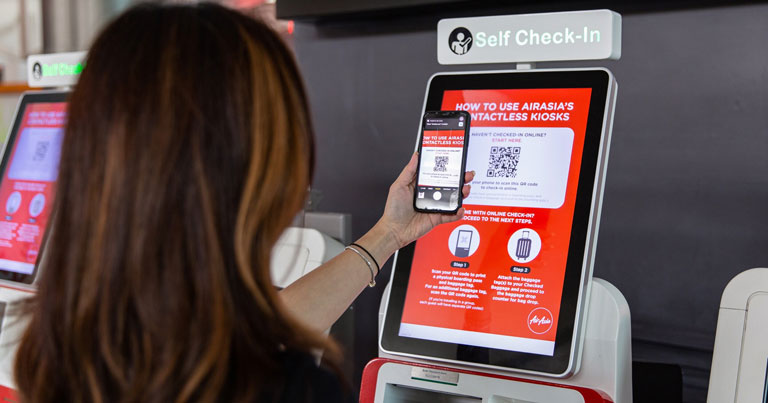 Similar to biometrics, self-service and contactless technology have been an increasingly popular trend in international air travel, even prior to the age of social distancing. However, this year, we see a swift acceleration in the implementation of such technology – thanks to heightened safety and hygiene concerns.
Expect to encounter more end-to-end self-service and contactless technology (not just at self-service check-ins) from your home to airport, to arrival at your destination. Some airlines, namely AirAsia, American Airlines, Japan Airlines and Avinor have recently adopted touchless self-services technologies, and some airports have done the same: Bangalore International Airport and Avalon Airport, Melbourne.
So, are you ready to travel again? How many of these technologies would suit your travelling habits – and which of these would be more of an inconvenience? Let us know in the comments!
Dviation is a one-stop aviation solutions provider offering end-to-end solutions, from asset acquisition right up to end-of-life. Find out more at https://www.dviation.com